Two New Brunswick fencers, Raphaël Bradley and Wendy Yano, won medals at the Canadian National Fencing Championships this weekend (May 18-21) at Brock University in Saint Catharines. Five other fencers from New Brunswick also competed in the National Championships this year: Thomas Allen, Pierre Arseneau, Buster Biggs, Calum Skidmore, and Yiming Xu. The fencers were accompanied by the designated coaches for the New Brunswick Provincial Team, Barbara Daniel (of the Damocles Fencing Club) and James Stevens (of the UNB Fencing Club/Capital Y Fencing Club).
Raphaël Bradley, who fences at the UNB Fencing Club in Fredericton, got a bronze medal in U23 Men's Sabre. Bradley ranked second out of the poules and won his first elimination match with a decisive score 15-6, before losing against silver medalist William Kinney in a close 15-12 match. Bradley also posted excellent results in his other events, coming in 13th in Senior Men's Sabre and 14th in Junior Men's Sabre.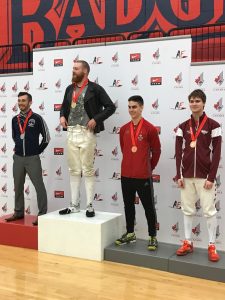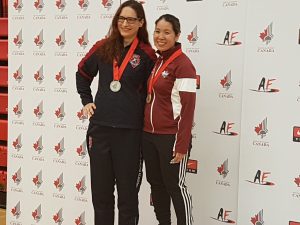 Wendy Yano, a fencer from Capital Y Fencing Club in Fredericton, won the gold medal in Veteran Women's Sabre after defeating Lisa Huzel in a decisive 10-3 victory. Yano had another brush with the medal podium from her performance in Veteran Mixed Sabre earlier in the day. In that event Yano placed fifth after being beaten by silver medalist Carlos Agreda in a close 10-8 match.
Another standout performance at the Nationals this year came from Calum Skidmore, who finished seventh out of 66 in Junior Men's Epee. Skidmore gave a strong performance in the poules, winning all of his matches to be ranked sixth in the elimination round, and then proceeded to win his next three elimination matches before being beaten by bronze medalist Nathan Brunet in the quarter-finals. Skidmore's results in Senior Men's Epee were also very impressive: after a difficult poule round Skidmore pulled off an upset victory against the highly ranked Samuel Gallagher Pelletier before succumbing to another top ranked fencer to place 32nd out of 87. Skidmore also did well in U23 Men's Epee, coming in twelfth.
The other fencers who competed at the Nationals were foilists Pierre Arseneau and Buster Biggs of the Damocles Fencing Club in Fredericton, and Thomas Allen and Yiming Xu of the Fundy Fencing Club in Saint John. In Cadet Men's Foil Arseneau came 40th and Allen came 46th. Allen also fenced in Cadet Men's Epee where he came 36th.
All four foilists also fenced in Junior Men's Foil, with Xu coming in 41st after a strong performance in the poules, and Arseneau nearly making it to the round of 32 only to be beaten in a very close 15-13 elimination match. Biggs, Arseneau, and Allen came in 55th, 57th, and 66th respectively. Biggs had the strongest performance in U23 Men's Foil where he made it to the quarterfinals before finishing 8th, while Xu came 13th and Arseneau came 15th; in Senior Men's Foil Xu came in 53rd and Biggs came in 59th. Finally, Arseneau, Biggs, and Xu teamed up to fence in Senior Team Men's Foil, where they battled against ten other teams to place seventh overall.
An itemized list of results from NB Fencers (including "expats" Scott MacGregor and Willow Wilson) is available below, and a comprehensive list of all results is available here.
Friday, May 18th
Junior Men's Epee
Cadet Men's Foil

Pierre Arseneau: 40/53
Thomas Allen: 46/53

Senior Men's Sabre
U23 Men's Foil

Pierre Arseneau: 15/18
Buster Biggs: 8/18
Yiming Xu: 13/18
Saturday, May 19th
Senior Men's Epee

Calum Skidmore: 32/87
Scott MacGregor: 28/87

Junior Men's Foil

Yiming Xu: 41/69
Buster Biggs: 55/69
Pierre Arseneau: 57/69
Thomas Allen: 66/69

U23 Men's Sabre
Junior Women's Epee
Sunday, May 20th
Senior Men's Foil

Buster Biggs: 59/71
Yiming Xu: 53/71

Cadet Men's Epee
Senior Women's Epee
Junior Men's Sabre
U23 Men's Epee

Calum Skidmore: 12/17
Scott MacGregor: 3/17

Veteran Mixed Sabre
Veteran Women's Sabre
Monday, May 21st
Team Senior Men's Foil

Team NB (Pierre Arseneau, Buster Biggs, Yiming Xu): 7/11
on May, 21, 2018

Comments Off

on Results from the 2018 Canadian National Fencing Championships