Last week, our fencers represented Fencing-Escrime NB at the 2023 Canada Winter Games and got the point across! Here are the final results:
Day 1 –  BRONZE MEDAL for Claire Han in Women's Epee and a 5th place finish for Michaël Robichaud in Men's Foil
Day 2 –  BRONZE MEDAL for Dominique Richard in Women's Foil and a 5th place finish for Rowan MacDermott in Men's Sabre
Day 3 –  SILVER MEDAL for Graham Goodwin in Men's Epee and a 5th place finish for Clara Richard in Women's Sabre
Day 4 – NB finished in 4th place in the team event
Historic moment – NB fencers brought home more medals than any other games so far! Congratulations to all our fencers and Thank You to all the coaches/parents who supported them along the way.
**************************************************************************************************************************
Lors des Jeux du Canada la semaine dernière, nos tireurs se sont fait remarquer! Voici les résultats des divers épreuves:
Jour 1 – MEDAILLE DE BRONZE pour Claire Han à l'épée féminine et 5e place pour Michaël Robichaud au fleuret masculin
Jour 2 – MEDAILLE DE BRONZE pour Dominique Richard au fleuret féminin et 5e place pour Rowan MacDermott au sabre masculin
Jour 3 – MEDAILLE D'ARGENT pour Graham Goodwin à l'épée masculine et 5e place pour Clara Richard au sabre féminin
Jour 4 – Le NB a fini en 4e place à l'épreuve par équipe
Note historique – l'équipe d'escrime du NB a récolté plus de médailles que tous les jeux précédents! Félicitations à tous nos tireurs et merci aux entraîneurs/parents qui les ont supportés pendant ce parcours.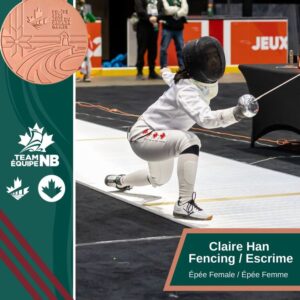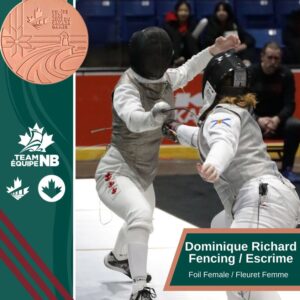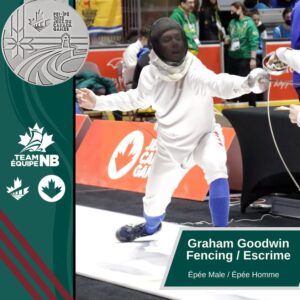 on Mar, 08, 2023

Comments Off

on Canada Winter Games a success // Jeux du Canada un succès