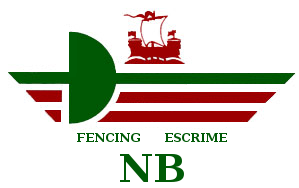 Seven fencers from New Brunswick will be among the over one thousand athletes competing at the Canadian National Fencing Championships this weekend (May 18-21) at Brock University in St. Catharines, ON.
Of the fencers going Pierre Arseneau, Buster Biggs, and Calum Skidmore fence at the Damocles Fencing Club in Fredericton, Thomas Allen and Yiming Xu are from the Fundy Fencing Club in Saint John, Raphaël Bradley fences at the UNB Fencing Club in Fredericton, and Wendy Yano is a member of the Capital Y Fencing Club, also in Fredericton.
All of these fencers are members of New Brunswick Provincial Team and they will compete in all three weapons, epee, foil, and sabre, and in age categories ranging from Cadet (Under 17), to Senior and Veteran. Accompanying them are coaches Barbara Daniel of the Damocles Fencing Club and James Stevens of the UNB Fencing Club.
Recent highlights from these fencers include Biggs and Arseneau winning gold and silver respectively in Open Foil at the 2018 NB Provincial Championships, and with Skidmore winning silver in Junior Epee, while Bradley got bronze in U23 Men's Sabre at the most recent Canada Cup, and Yano took the gold in Veteran Women's Sabre at the Bill Hall Veteran's Challenge in Boston.
For more information please contact David Collins at fencingnb@gmail.com, or 506-636-0941.
on May, 16, 2018

Comments Off

on Seven NB Fencers Compete at Canadian National Championships