At the Canada Cup tournament held in Quebec City this past weekend (Jan 19-21), New Brunswick fencers brought home one individual and two team event medals.
Raphael Bradley of the UNB Fencing Club in Fredericton won a bronze medal in Under-23 Men's Sabre. Bradley had an okay start in his poule of eight, winning 3 matches and losing the other 4. From this result he was seeded 7th in the direct elimination round, where he fenced the #10 ranked fencer, Daniel Potter. Bradley was clearly in top form for this round, as he defeated Potter 15-0, and then went on to fence the #2 ranked fencer, Philip Pitura. Bradley eliminated Pitura 15-11, and then faced Ryan Xu in the semi-finals. The scores started off close in that match but Xu ultimately to pulled ahead and won with a final score of 15-8.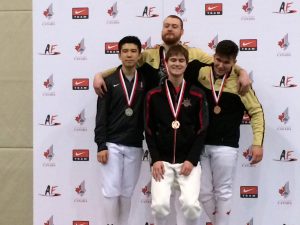 An all-New Brunswick team took the bronze medal in the Junior Men's Epee team event. The team, consisting of Calum MacDonald, Calum Skidmore, and Nigel Sood, all fencers from the Damocles Fencing Club in Fredericton, won bronze after defeating a team of fencers from the "Pirates" fencing club in Rimouski. The deciding match saw the teams trade the lead back-and-forth several times before Team New Brunswick won with a tight score of 45-44.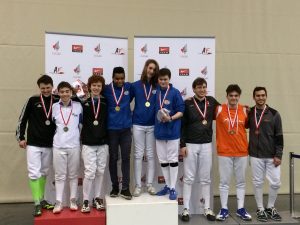 The other medal from this tournament came from Saint John fencer Yiming Xu, of the Fundy Fencing Club, for his team's silver medal win in the Junior Men's Foil team event. This team, consisting of Xu and Ontario fencers David Chen-Li, Stuart Robinson and Alexander Zhou, was only defeated in the finals by Ontario's "Team Ligang" with a score 45-34.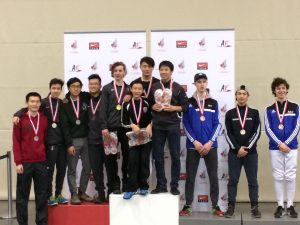 These fencers were supported by coach Jim Stevens of the UNB Fencing Club, and were accompanied by eight other New Brunswick fencers who competed in men and women's foil and epee events ranging from Under-15 to Senior.
Go here for more information on the results from this tournament.
on Jan, 23, 2018

Comments Off

on Press Release: NB Fencers win medals in three events at Canada Cup in Quebec City